Recent events have left me very lonely. In typical fashion, I panic and try to meet people just for friendship.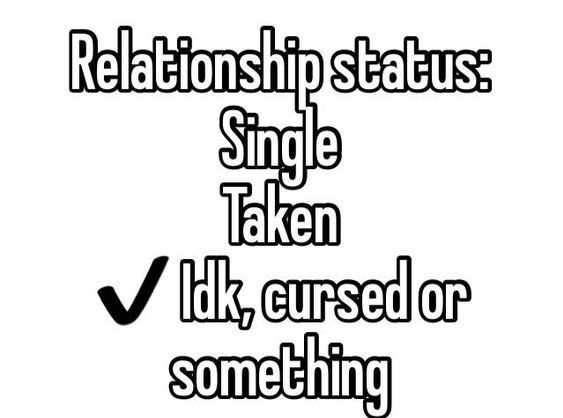 That is a pattern since my ex-wife walked out on us. It always fails. I guess I had thought this time would be different because I have changed a lot in the past year. I am such a fool. Things that I would have never done before, such as take and post pictures of myself, don't even phase me anymore. It is amazing what she did for me, and I will love her forever for this and so many reasons.
A good woman's arms round a man's neck is a lifebelt thrown out to him from heaven.

Jerome K. Jerome
Of course, it failed. I am who I am, after all.
I am not sure why I ever try to find a friend. Perhaps, I am just being sadistic towards myself. There is a lady that would talk to me more than a little bit. She works at a grocery store that I shop at very regularly. Since last summer, she won't anymore. She won't even look at me. I am not sure what I did, but I can't say I am surprised.
I have tried to volunteer lately but got rejected. It seems that I can't even work for free. I enjoy helping people. My motivation to volunteer was not entirely altruistic, but why not make myself useful and find a friend or two? That was my flawed thinking.
That is pretty much the end of my possibilities, and I must be a sadist because I went to online dating sites. Free sites, of course, I am not going to pay for the privilege of getting ignored. I have a hard time dealing with silence from people, but paying for it? That is a bridge too far.
I had tried dating sites before and failed, but isn't genius trying the same thing but expecting different results? Something like that.
I did try okcupid before, and I liked the website. It was kind of fun. I could get lost in crazy questions, and they would judge many personality traits from that. They removed the personality traits and a lot of other things. It is not so fun anymore. It is more annoying because you have to like a person to write to them, and once you write to them, that person disappears from your like list. I guess they don't believe in good UX. It never ceases to amaze me how many websites destroy user-friendliness and functionality trying to mimic another site - in this case, Tinder. It is pretty much the same thing now, and that is sad.
So I wrote a sincere and slightly funny but probably awkward profile and even submitted three pictures. I answered a metric ton of questions. I initially said 'just looking for friends,' but I was told on Psych Central that it could be construed as creepy by women. I am not sure why; lots of women say they are looking for friends.
Maybe they wouldn't believe a man would only be interested in platonic friendship? If I have one good quality, it is that I am sincere. That seems to be a hindrance, something to be used against me. I also put a wide but socially acceptable age range. I do not live in a heavily populated area, so there are not many active profiles, and the site does not match unless we both fit each other's age range.
I was also questioned on Psych Central about why I was just looking for female friends. I guess for people who don't know me, that seems strange. In my adult life, 95% of the few friends I have had have been women. There is something friendly about me that they are attracted to platonically. Over the years, I have heard "I can't believe I just told you that!" many times, they just feel comfortable with me, which is a good and bad thing.
I think a lot of that stems from the fact I have seven sisters, and my dad worked out of town for much of my childhood. The strange thing is that as a teen, I didn't have any friends that were girls, and none wanted to date me, of course. The strange thing is despite the comfort I have with platonic women, I get very nervous if I am interested in them as more than just friends. It even happens when I become friends with someone, and it goes past that.
I never once claimed I made sense.
Anyway, I went through all my matches and liked quite a few of them that looked kind, and their interests intersected with mine, more or less. Most were rated a 90%-96% match, not sure how useful that is. Then I went through the list each day and found the five or six I think would match best and sent a message. Guess how many responses? ZERO! No big surprise.
I did get a few messages out of the blue. Of course, they were all scammers/prostitutes. I am socially inept, but not so much to fall for that. I think this is a flaw of sites that allow free users. Maybe things are better on the dating sites where everyone has to pay a subscription.
While writing this essay, someone who might be real sent me a message without me sending one first. It sounds like she is someone real. It is a slow conversation, but we will see. She seems almost as shy like me, which could be funny.
Edit: Nope, well, maybe. We talked for a little bit, very awkwardly, on both sides. The last thing she asked is if I had been on the site long and if I had met anyone yet. I answered no, and she never responded, and the account got deleted the next day. That is probably as close as I will ever get again. Oh well, she was pretty and seemed very nice.
Got one more, a lady from China looking to move here because her best friend married someone in the area. It is signing-the-next-10-years-of-your-life-away risky. It can be worth the risk, but I would only do that for one person, but it seems that is no longer a possibility. I especially would not do that for someone specifically looking to move here. She seemed nice, but who can tell? I certainly can not.
So I was thinking and adjusting my profile a little bit. What if I wrote what I really think about myself? My profile just listed things I like to do and a few good attributes others claim I have. I am not sure if they are true.
Being positive on a dating site is what works, right?
As a test, I made a second account with no pictures but the same age, body type, and what I was looking for.
I was bluntly honest. "A pathetic loser in dire need of friends. That would be great, more would be better, but I am realistic." Also: "I love this about myself: nothing." "My partner should be Patient, nice, reasonably intelligent. Blind is helpful, it will cause you less pain." "On a typical Friday night, I am: Crying in my glass of water. I don't drink alcohol, I am so boring." "You should message me if: You want a free dinner or lunch and love not-so-great conversation."
That should attract no one, but I was curious. I even named him "Biff."
I did make a rule to not initiate conversations or respond with this account in the unlikely event that I got a response. I would never want to hurt anyone or make them feel deceived. I know how that feels, and it would kill me to know I made someone feel like that.
It seems that on a dating site, getting ignored is what happens more often than not. Maybe that is just me.
I also would not want to meet someone who would respond to it. It seems like it would just be people who thought I was easy to manipulate, which is not true.
I am extremely distrustful until I start to feel comfortable. So, if I sense any deception or manipulation, I am gone. The question is: how well can I detect that?
Now, once I feel comfortable, which takes months, that is another story, unfortunately.
The results after 10 days?
Fifteen likes and four messages were sent to Biff, and none of them are scammers/prostitutes that I could tell. They just said hello and asked for a picture. Two of the messages were from women that I sent messages to on my real account, but they did not respond to me.
The pathetic loser Biff was far more successful, with zero effort, talk about depressing.
I don't know what to think about this or what this proves other than trying to find people online is insane. I have had two "successes" in my past, but neither were met on a dating site.
I also made a real account with plenty of fish and had the same results. Only scammers and prostitutes wish to talk to me.
There are some funny profiles.
I saw one that said she was 53, but she didn't look a day over 25. Yeah, that is legitimate. I guess I could have a conversation with them, but that would not be so enjoyable. One good thing about this site is that its assessments seem very accurate. It figured me out well. The layout of the site makes it look like it is from the year 2000. It could use an update.
I dislike mobile apps, but maybe it is better on that?
I tried Zoosk, it is much simpler than the first two. To read messages, you have to pay which is $30 a month on a month-to-month basis. You can scan profiles for free.
Bumble was interesting. Women have to send the initial message, and the guy has 24 hours to respond. Basic functions are free. Flipping the traditional roles is good for both, I think. It is a bit like Instagram in that the browser version does not match the features of the mobile app. That sucks.
I will let you guess if I got any messages on Bumble.
Should I try a paid site like E-Harmony?
It is the most restrictive without paying, and it is ridiculously expensive.
It is about $47 a month with a 12-month subscription.
They sometimes have 50% off sales, but there are no month-to-month options, just 6, 12, and 24-month subs. They do have a three-day money-back guarantee but no trial. The odds seem much higher than anyone you might contact is real, which is very good. I think I am pretty much at the end of my experiment, but it would probably work well for people that aren't horrible.
I think I am about done with trying to meet people.
I am not going to cut out anyone in my life, which is close to no one outside of family members. I have been told I am nice and fun to talk with and very caring, blah blah blah, but what difference does that make when I can't get anyone to talk to me because I am not so attractive?
The women on these sites have had bad run-ins with mean and nasty guys judging by what they write on their profiles. These guys seem to have no problems meeting people, but I can't get a real person that lives reasonably close to say 'hello' to me, so what does that make me?
That is the main issue with dating sites. If your pictures don't attract interest, you are done before you begin. Maybe there is a dating site for uggos?
I guess I could go back to the pen pal site, and I did for about 30 seconds to check a date but saw something that made me very sad. I learned in the past year that even though a pen pal is more than I deserve, it is much less than I want.
What I want in life never seems to matter or work out.
Okay, this was not so enlightening or useful.
I am sure your mileage will vary depending on location. These sites seem to have a lot of turnover in membership.
I should be more patient, but I am very tired of getting ignored.
Strangely, just writing to strangers makes me feel connected and less anxious, but I need to go back to where I was over a year ago. I guess I will have to work on beating loneliness out of me over the next few months and go back to being a hermit. I should move somewhere warm. Being a hermit is better when you are not freezing half the year.
Maybe Vietnam, Panama, or The Philippines? Eastern Europe would be good, but I would not move anywhere that gets cold. For the past few years, I have been thinking of moving away. Perhaps I could live in a tent in the Florida Keys? I miss the Keys. It is insanely expensive, so a tent is easier to swing.
I could buy local fruit and vegetables and fish all day. What more do I need?
I could do the same things out of the country and still save money. That sounds like a much better life than what I have now. Something to research, at least…